Schneider Electric is continuing to find ways to help homeowners across the country save money by making their products more energy efficient. The Wiser Air Wi-Fi Smart Thermostat is one of Schneider's products that demonstrate this completely.
For those who do not know, programmable thermostats allow you to program adjustments of temperature in your home throughout the day which in return saves you money. In fact, programmable thermostats allow the average American household to save up to 15% on their energy bills each year.
Not only is the Wiser Air programmable, it makes scheduling easy as it is a Wi-Fi thermostat so you can change the temperature of your home on the go. Schneider created an app that you sync to your thermostat too which is equipped with Eco IQ.  Eco IQ learns every time you interact with the app to create the optimum schedule between energy saving and comfort for your home. Depending on how you configure the comfort limits and lifestyle slider when enabling the feature, Eco IQ either works to help control the temperature in your home for comfort or more broadly for savings.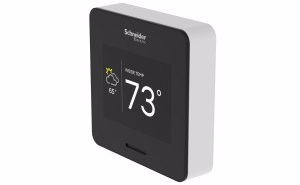 The thermostat comes equipped with an energy savings calculator as well that estimates how much energy would have used without Eco IQ to show you what you have saved in the last five days.
 Wiser Air Wi-Fi Thermostat additional features:
Sleek intuitive design.
Fast responding glass touch screen.
Weather Service built in that is the #1 Ranked Weather Service by Schneider Electric that is used by hundreds of utilities, airlines, sporting venues and government organizations.
Fast response time when navigating on the thermostat itself, no lag and different screens load smoothly and promptly.
The only one of its kind to use a soft, color-coded backglow titled WinserPulseon the well to show the consumer when the system running in a cooling or heating mode.
Uses one of the sleekest and navigable mobile and web based portals, that is downloadable with iOS/Andriod or through a PC browser.
Interested in Schneider's Electric Wiser Air Wi-Fi Smart Thermostat? Contact Tower Equipments professionals today at: