The Diversitech ClearVue Mini Condensate pump is small, quiet, and offers a host of unique features that help it outperform other mini-split pumps on the market. The pumps size and whisper quiet operation allows it to be installed anywhere making it a perfect fit for any application.
The ClearVue Mini features variable speed, lift, and Floatless Sensor technology that helps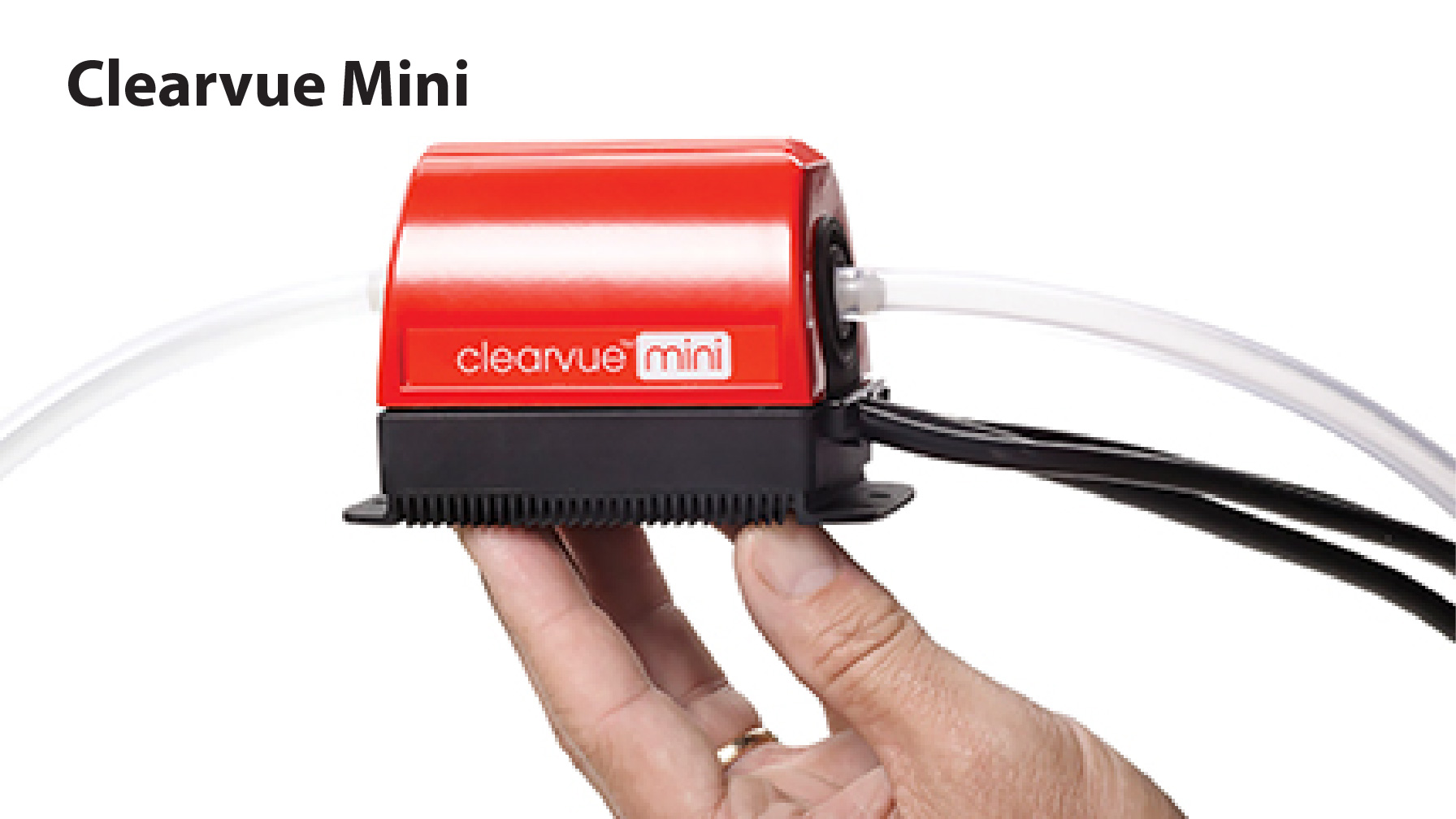 the pump think and respond to changing conditions. The mini pump adjusts its speed and lift based on how much condensate is being produced, helping it operate more efficiently and with less noise. With no mechanical float to foul or get stuck, the ClearVue Mini is ultra reliable.
Specifically designed for ductless system installations, the Diversitech ClearVue Mini condensate pump is a must have when using ductless HVAC systems. This pump is hard to beat including a variety innovative features that most competitive condensate pumps do not have such as:
Super Quiet Operation (less than 20db) – ClearVue Mini is nearly inaudible. You literally can hardly hear the pump run. This quiet operation allows maximum installation flexibility, as you can place the pump right in the room where people are.
Variable Speed and Lift– ClearVue Mini determines how fast
condensate is entering the tank and adjusts its speed and lift to match the conditions and keeps the tank clear.
Separate Tank– ClearVue Mini features a separate tank that can be located away from the pump if needed, providing a more flexible installation. This small tank fits inside most indoor cassettes.
Onboard floatless Sensor- The sensor eliminates many of the typical problems associated with conventional condensate pumps. By eliminating the float, ClearVue Mini won't fail like conventional float-switch pumps. ClearVue™ Mini uses Floatless Sensor technology in different levels in the tank to provide the most accurate water level information to the pump's brain. And better information means a better pump. ClearVue Mini's Floatless Sensor™ technology tells it how high the water is in the tank and how fast the inflow is. ClearVue Mini then uses this information to adjust its pump speed and lift to keep the tank clear and the system running properly
Overflow Safety Switch– Built in overflow safety switch will instantly shut down the compressor if the pump feels a clogged line, thus preventing damage to equipment and the environment.
LED Lights– ClearVue Mini features three LED indicator lights: Power, Run, and Alarm. The LED lights tell you what mode the pump is in at any given time.
Aluminum Pump Housing– ClearVue Mini features an aluminum housing that is built to last. This tough housing protects the pump from physical damage and contributes to the super quiet operation of the pump.
Can be powered with either 120v or 240v.
Given the size of the pump, it makes installation flexible.
Interested in Diversitech's ClearVue Mini Condensate Pump? Contact Towers Professionals today for pricing, questions or for more information at: