Breathe pure air in your space while reducing AC maintenance costs and increasing AC efficiency with the UV-Aire FlexMountUV!
Field Controls FlexMountUV products take up half the space of traditional UV units, yet they deliver a powerful UV light that irradiates bacteria, mold, and spores. Not only do they make your indoor air pure, the FlexMountUV systems help keep the AC A-coil clean of mold and organic material so the system runs more efficiently, reducing AC running and maintenance costs. 
The FlexMountUV is designed for fast, flexible, easy installation into virtually any forced air ductwork to maximize HVAC operating effectiveness and significantly reduce germs, bacteria, and mold spores in the home. 
The UVC germicidal lamp fixture is designed to easily adjust to any angle for optimum placement inside the AC-Coil box plenum. It also comes with an adjustable deflector shield to focus the UV energy for maximum benefit. 
How The FlexMountUV Works
The FlexMountUV lines use's the energy from a specially designed, high-intensity UVC germicidal lamp to reduce microorganisms in indoor air as is passes through the HVAC system. The AC-coil is a key component of a home's cooling system. The A-Coil is enclosed in a dark wet environment and can become a breeding ground for fungi, mold, and other toxic organics. When installed near the HVAC A-Coil, FlexMountUV helps keep the coil free or mold allowing the AC to run at optimal efficiency. FlexMountUV requires very little maintenance and costs pennies a day to operate while also helping avoid unwanted maintenance costs.
How To Install The FlexMountUV
The FlexMountUV in-duct purifiers can be installed inside the AC-Coil box plenum, over the coil or below the coil with Field Controls secure mount heavy-duty magnet or the FlexMountUV lamp can be installed by inserting it into the AC-Coil plenum box with the snap-off zip screw mounting plate. The patented articulating arm allows for a full 180-degree rotation to target the UVC germicidal energy for precision AC-Coil irradiation.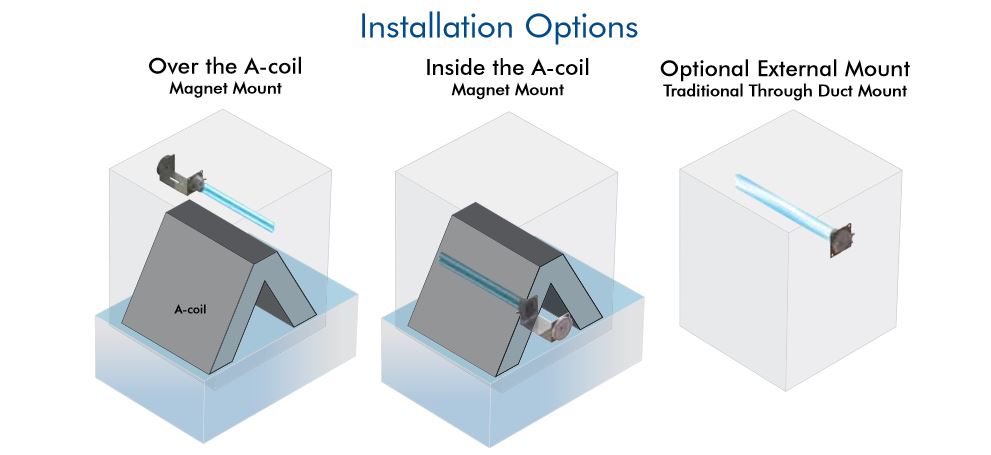 Benefits:
Neutralizes and reduces airborne bacteria, mold, and viruses

Keeps AC A-coil clean for optimal efficiency

Nearly maintenance free

Installs in minutes
Features:
Mounts with heavy-duty magnet or snap-off bracket

180-degree articulating bracket

Four sizes: 12″, 13", 14.5″ and 17"

Twin and single tube designs

UV shield for focused irradiation
Interested in Field Controls FlexMountUV? Contact Tower Equipment's Professionals today for pricing, information, or with any questions you may have at: