Looking for a more safe, efficient, and reliable way to deal with snow this winter? Look no further than Tekmar's Snow Melt Solutions! With many benefits and ways to control the system, you or your customers can save time and effort this year. 
Benefits of Snow Melting with Tekmar are: 
Safe building access to residents, customers, visitors, and employees

Reduce potential liability

Save time and eliminate strains caused by shoveling

Melt snow in difficult to access and steep locations

Prevent damage to pavers, concrete, and structures caused by snow clearing equipment

Eliminate the use of harmful chemicals

Ensure critical locations such as emergency entrances and ramps are free of snow and ice 24-hours a day
Snow Melt systems come in automatic or manual operation 
The automatic operation offers the highest level of safety and convenience.

Fully automatic operation is enabled through the use of an in-slab Snow/Ice Sensor 090 or 094.

Systems without an in-slab sensor can be updated to provide automatic start with timed stop operation using an aerial mounted Snow Sensor 095.

Manual systems are started with a button press and timed or manually stopped.
Tower offers two Snow Melt series from Tekmar for your convenience: 
The Classic Series– The Classic series provides stand-alone operation of a hydronic or electric snow melting system

---
The Performance Series– The Performance series offers the benefits of tekmarNet® communication to the operation of the hydronic and electric snow melting system. Benefits include remote start/stop, monitoring and adjustment through a Mobile App, Internet website or Home Automation system and the prioritization of up to 12 melting zones.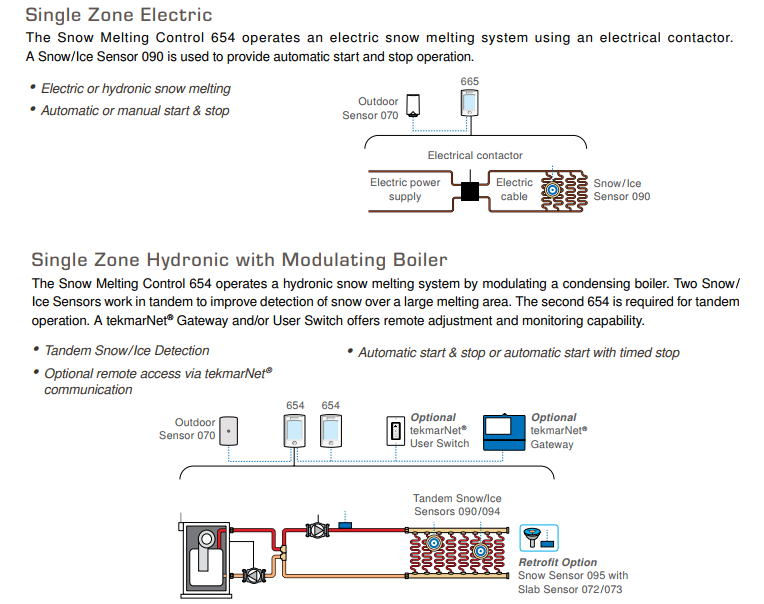 Interested in Snow Melt Solutions by Tekmar? Contact Tower Equipments professionals today for pricing, information, or with any questions you may have at: