The Universal Pilot Burner from Honeywell can make all your calls more profitable by allowing you to replace more pilots in less time!
This Pilot Burner is the only design that can be used on nearly any Honeywell pilot burner you will encounter decreasing the amount of stock in your truck and eliminating the possible wait time in ordering parts. 
Until now, pilot replacement jobs have left contractors with two options either replace pilots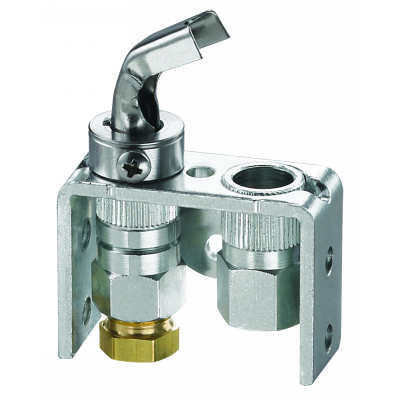 with like-for-like parts or clean the existing pilot. Which neither of these options is ideal.
Replacing pilot burners often required ordering a replacement and returning to install it later. This leaves customers without their needed pilot and you, the contractor, having to return and replace a pilot instead of completing another job.
Cleaning the pilot takes just as long as installing a replacement, but it's only a short-term fix that increases the likelihood of a needed callback. Plus, cleaning earns a fraction of the profits you can make from replacement. Every time you clean a pilot, you're leaving money on the table.
Luckily, the Universal Pilot allows you to do more jobs and requires less Equipment for you to carry around.
 The Universal Pilot was designed so you'll always be confident you have the right part for the job. You won't have to spend time cleaning old pilots or waiting for a replacement to arrive. You'll be able to make the call, replace the pilot and move on to your next job. The Universal Pilot is loaded with features that make it the go-to pilot to stock in warehouses and on your truck.
The Benefits of Stocking a Universal Line-up
The benefits of the Universal Pilot go beyond the contractor. Distributors can count on carrying an inventory that meets contractors' needs, is in demand and turns over sooner. Rather than ordering parts as they're needed, or trying to predict what parts you'll need with no guarantee they will be used, you'll have the right part for your contractors every time.
No Opening Acts, Just Headliners
The Universal Pilot is the clear choice to make pilots easier to stock, install and complete more jobs. Honeywell is making sure you'll be able to meet the needs of your customers immediately and without the profit loss associated with just cleaning, instead of replacing, pilots. 
Honeywell Universal Replacement Parts – Look For the Blue U
All Honeywell Universal Replacement Parts feature the blue U. This means they are designed to replace a large number of parts from one or more manufacturers. You'll be ready to replace just about any part without carrying a large inventory. By relying on parts with the blue U, you'll be able to do more and carry less.
Honeywell's Universal Pilot can replace many Pilots. To avoid any confusion, below you will find the Universal Pilot Burner Replacement Guide: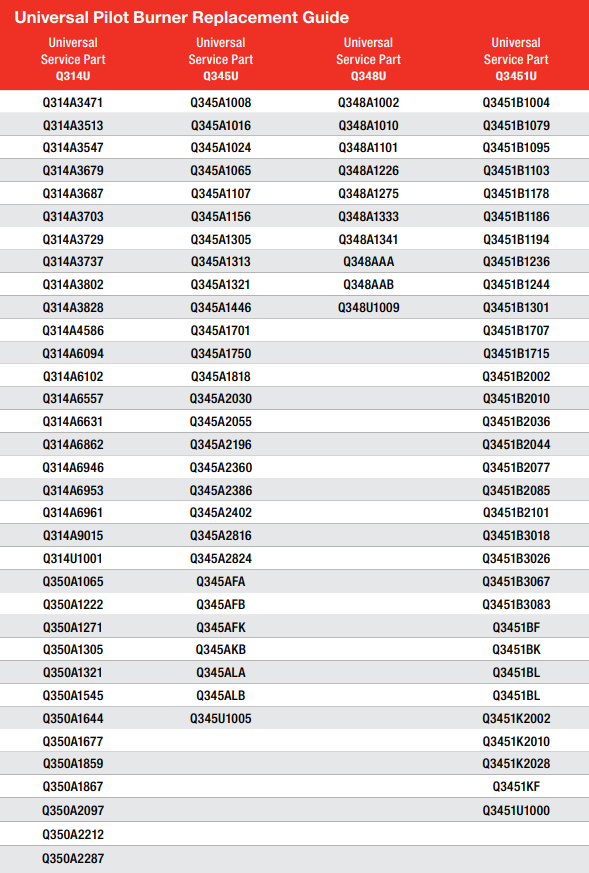 Each Q314U Universal Pilot Burner Package contains:
Pilot 

Compression fittings

low BTU Hood

orifices

mounting bracket
Want a Honeywell Universal Pilot Burner for your next job? Contact Tower Equipment Company today for pricing, information, or with any questions you may have at: