Need a reliable low-temperature cutout control? Consider Johnson Controls A11 Series!
A11 Series Low-Temperature Cutout Controls are compact and sturdy and have an adjustable temperature setpoint range with a fixed differential. 
The controls are available with single-pole, single-throw (SPST) or single-pole, double-throw (SPDT) contact action. Typical applications include the sensing of low-temperature conditions to avoid overcooling or icing of hydronic coils, cooling coils, and liquid-handling pipes. 
The range adjustment screw is accessible at the bottom of the control or at the top when the cover is removed. A factory-set low-temperature stop is available when specified.
Features
• Precision repeat accuracy remains unaffected by ambient temperature at the control diaphragm cup and 4 ft (1.2 m) capillary (20 ft [6.1 m] sensing bulb must be in the controlled area)
• Trip-free manual reset allows the lever to reset. You must press and release the lever before operation resumes.
• Precision snap-acting contacts in a dust-protected enclosure enable the A11 Control to operate to the fullest potential
• Direct reading scale provides easy-to-adjust setpoint. Adjustments can be made from the top or bottom of the control.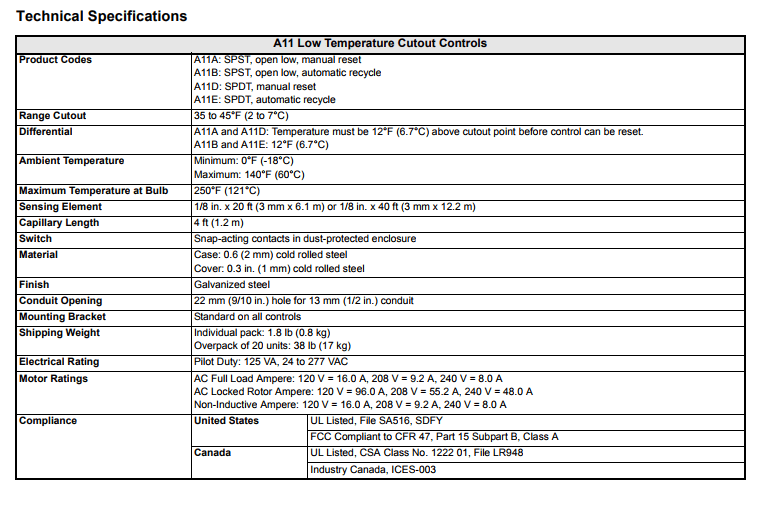 Interested in Johnson Controls A11 Series Low-Temperature Cutout Controls? Contact Tower Equipment's professionals for pricing, information, or with any questions you may have at: