Want to reduce stock, save time, and complete more jobs? Honeywell has created a way to help you do just that.
Honeywell is the industry leader in combustion controls for applications because they assure the safe operation of heating and cooling appliances. They offer

 like-for-like replacement parts and a full line-up of universal products that cover almost any application making Honeywell the only brand of replacement parts you'll ever need.
This guide on Honeywell's universal products, as well as like-for-like replacement options, will give you an insight on how you can cut back on your stock and increase the amount jobs you can do!
Universal Products
Now more than ever watching your inventory levels is an extremely important part of businesses. To help you control costs, Honeywell's line universal products can help you better manage your inventory. There are many different applications, but one brand is all you need with Honeywell's universal portfolio. Add in a Honeywell gas, oil, or hydronic controls which offer state-of-the-art diagnostic and troubleshooting capabilities, and you'll see that reliable Honeywell universal products are the universal choice.
Stock universal products and always have the right part

Standardized stocking lists will cover a high percentage of customers

Eliminate inventory that doesn't turn and takes up space in the truck

Make fewer trips to the shop and to the distributor

Profit is made in the service call, lost time is lost revenue

Reduce downtime for your techs

Satisfy your customers

Stock universal parts and avoid a missed opportunity
Truck Inventory and Profits
The stocking recommendations included below in this guide reflect the percentage of your inventory covering residential combustion applications and include the high running products in your regional area. They can be adjusted accordingly to your business size and needs. Note the recommendations for off-season stocking to cover preseason maintenance calls.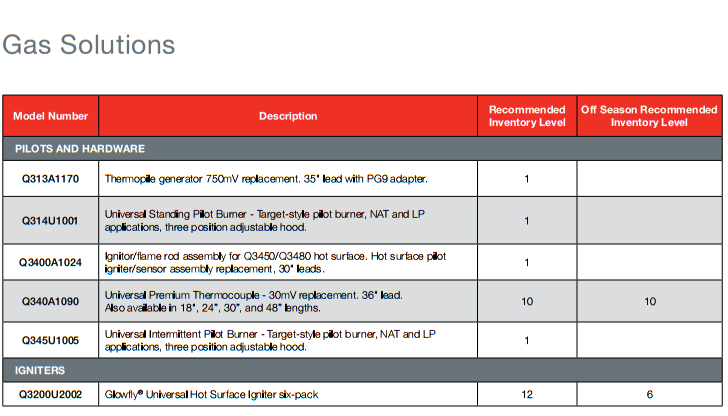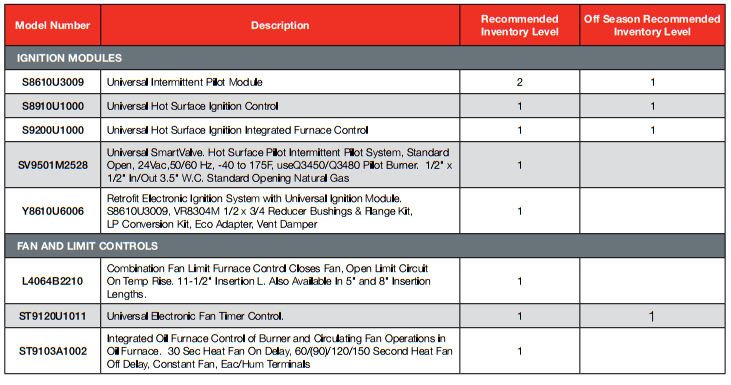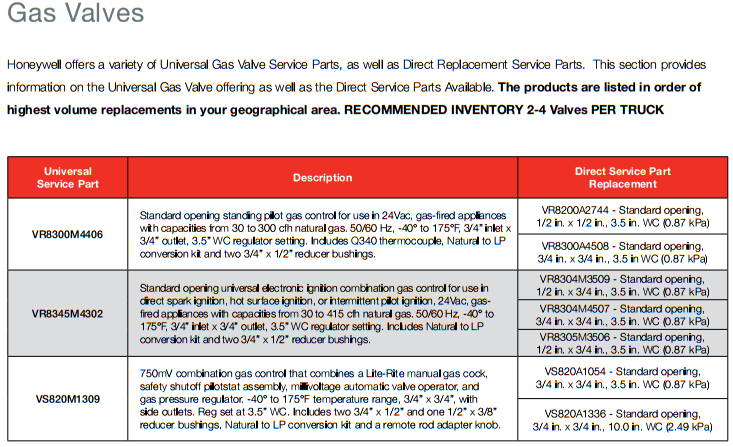 ---
Honeywell's universal pilot burner is a great product to consider to cut truck inventory and to gain more profit. The Universal Pilot was designed so you'll always be confident you have the right part for the job. You won't have to spend time cleaning old pilots or waiting for a replacement to arrive. You'll be able to make the call, replace the pilot and move on to your next job. The Universal Pilot is loaded with features that make it the go-to pilot to stock in warehouses and on your truck.
Honeywell's Universal Pilot is the clear choice to make pilots easier to stock, install, and complete more jobs. Honeywell is helping you meet the needs of your customers immediately with this products without the profit loss associated with having to search for like-for-like parts.
---
Interested in Honeywell's line of Universal Products? Contact Tower Equipment's professionals for pricing, information, or with any questions you may have at: