Did you know the air you breathe indoors could be the most polluted air you breathe all day?
In fact, the EPA has named indoor air pollution as one of the top five environmental risks to public health. With the amount of time spent indoors, it's no wonder why so many people suffer from allergies, asthma, and other illnesses.
That is why your friends at Tower Equipment stock Aprilaire. As a whole, Aprilaire is driven to help you control the particles that are harming the space you and your family live in every day.
Here's what's happening in the air you're breathing right now:
Just one cubic foot of air can have more than 30 million pollutants—that's 100 times more than the air outside. Polluted air like this causes 94% of all respiratory problems.

The dust you see on your furniture or floating in front of the window on a sunny day is also entering your lungs. Just one ounce of dust can contain 40,000 dust mites, which aggravate allergy and asthma symptoms.

In addition to visible contaminants, there's an alarming concentration of harmful particles that are invisible to the human eye. This Particulate matter is the leading cause of poor indoor air, and it's found in 85% of homes.

Every time you dust or vacuum, you actually increase particulate concentration in the air.

It's not just your family or your business that suffers. Polluted air can also have a damaging effect on your furniture, appliances and electronics, and especially your heating and cooling system.
Aprilaire has spent more than 60 years perfecting its line of industry-leading products to help make sure your indoor air is as clean and comfortable as it can be. Their whole-home air purifier will help you manage your indoor comfort, health and protect your HVAC system. Installed as part of your heating and cooling system, it puts you in complete control of air purity.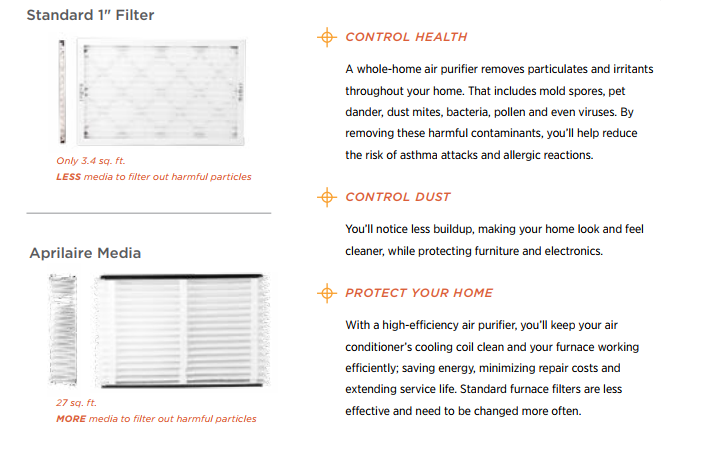 One of the many advantages of Aprilaire air purifiers is the ability for you to control both when and how it works. Most whole-home air purifiers work only when your heating or cooling system is running. But what if you're vacuuming and kicking up extra dust? What if it's allergy season, and you and your family are constantly sneezing?
Whether you want less dust on the coffee table, or you want 95% effectiveness at removing particles as small as one micron—that's 1/100th the diameter of a human hair—Aprilaire has the solution that's right for you. All of their products work silently as they permanently trap particles.
Aprilaire is easy to install and their high-performance replacement media only needs to be replaced once every year. Plus, all of their air purifiers come with a five-year warranty. Check the chart below to see which air purifier can work for you or your customers: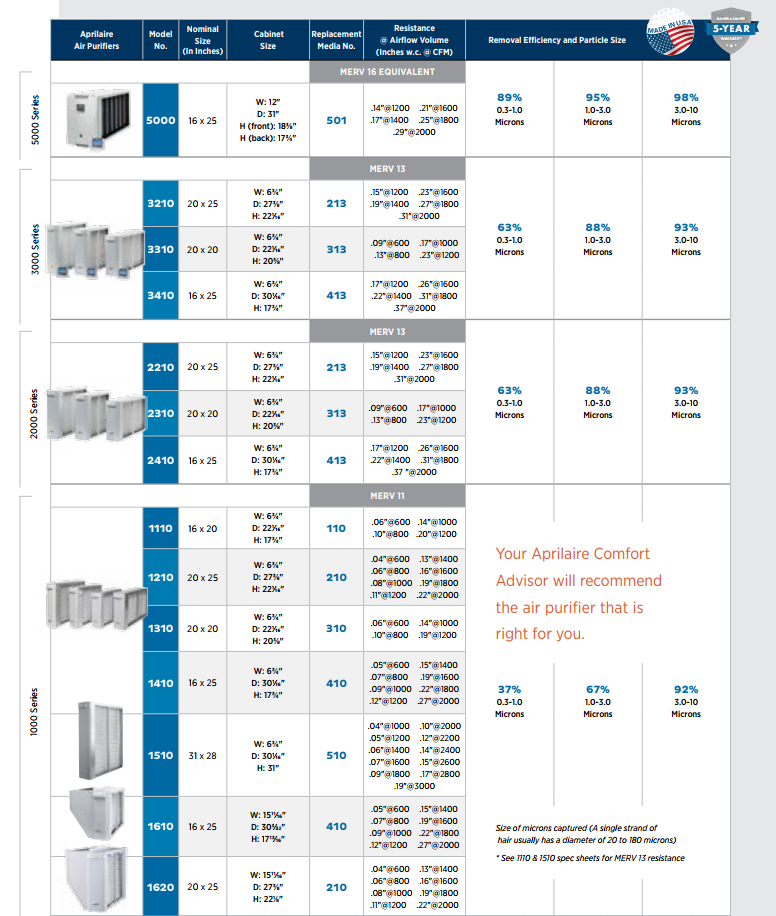 Need a recommendation on the right Aprilaire air solution for you or your job? Contact Tower Equipments Professionals today for pricing or for more information at: