Introducing the all new EnOcean® 902 MHz Wireless Relay by Functional Devices & Accessories line to the shelves at Tower Equipment!
Functional Devices new RIBWxxxB-EN3 wireless relay is a part of EnOcean Alliance line. EnOcean is the only energy harvesting wireless standard and is dedicated to automation solutions for sustainable buildings using energy harvesting wireless technology. EnOcean also aims to make buildings more energy-efficient, more flexible, and lower in cost.
Features for the RIBWxxxB-EN3 Relay include:
Dry contact input for sensor feedback

Connects directly to controller's output for relay control/status from load

20 Amp load control

Range of 50-150 Feet

Applications include:

Retrofits

Remote outbuildings

Building additions

Any application where you cannot sacrifice the integrity of the structure

Made in the USA
Accessories 
This slideshow requires JavaScript.
Specifications  
RIBWxxxB-EN3 is both a transmitter and a receiver.

RIBWxxC-EN3 is only a receiver.

Linking a RIB with another RIB puts the pair in bidirectional mode.

PHC Gateway Controller can also link with a RIB and be bidirectional.

Relay state at power-up can be set to ON, OFF or LAST STATE (default). (Exception: RIBW24B-EN3 will not save the last state when powered from 24Vdc).

Each Relay can be linked to up to 30 transmitters of any combination. page 1 902 MHz Model Power Input (Vac) Contact Rating (A) Transmission Source E

Link devices to each other before installing. Contact Tower for linking instructions.

All RIBs must be powered during link.
Application Example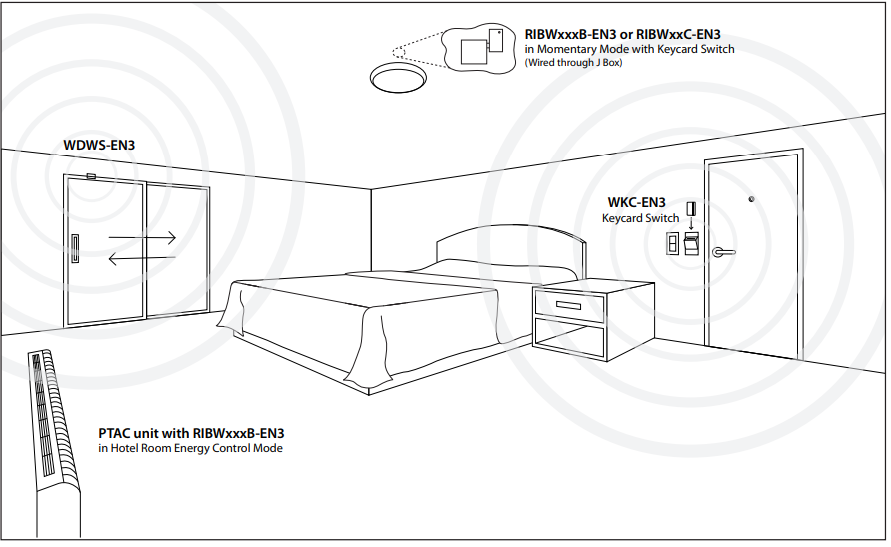 Interested in the new EnOcean® 902 MHz Wireless Relay by Functional Devices & Accessories line? Contact Tower Equipments professionals today for pricing, more information, or with any questions you may have at: