Did you know Honeywell offers NEMA (National Electrical Manufacturers Association) standard DC20-1992 and general purpose transformers?
Honeywell's general purpose transformers are made to prevent overcooling, brownout, and burnout. They are typically used in heating/cooling control systems but can also be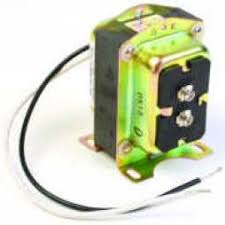 used in any application that does not exceed the load ratings. They can be mounted through a 7/8 inch knockout on the accessory mounting plate (included), or with the integral mounting feet. These transformers are for use in 24 Vac nominal control circuits. In addition, they meet National Electrical Code Class 2 ìnot wetî and Class 3 ìwetî requirements and are Underwriters Laboratories (UL) Inc. listed under UL 1585.
These transformers are available with single or multiple input voltages and with foot, conduit and plate mounting options. Transformers with circuit breakers that can be manually reset by pressing a button are also available. Honeywell also designs transformers for specific environmental requirements and with specialized termination options.
Features
Color-coded lead wires for primary connections and screw terminals for secondary connections.
Includes fixed 1/4 inch (6mm) male quick-connects (AT140A models only) or color-coded lead wires for primary and secondary connections.
Meets NEC Class 2 requirements and Underwriters Laboratories Standard UL 1585.
Identified Class 2 not wet, Class 3 wet.
Product Specifications
Dimensions (in.):  3 3/16 in. high x 2 3/8 in. wide x 3 1/8 in. deep.
Dimensions (mm): 81 mm high x 60 mm wide x 79 mm deep.
Temperature Range (F): -20 F to +105 F.
Temperature Range (C): -29 C to +41 C.
Includes: Metal end bells.
Item Type: Product.
Mounting: Foot mounted, plate mounted on 2×4 in. or 4×4 in. outlet box, clamp mounted using outlet box knockout, or panel mounted.
Electrical Ratings: Primary voltage–120 Vac, 208 Vac, 240 Vac; Secondary voltage–27 V.O.C..
Frequency: 60 Hz.
Approvals, Underwriters Laboratories Inc.: UL Listed: A,C,F models. File # E14881.
Approvals, Canadian Standards Association: CSA Certified: A & B models.
Electrical Connections (Primary)(in.): 9 in. lead wires.
Electrical Connections (Primary)(mm): 229 mm lead wires.
Electrical Connections (Secondary)(in.): (2) screw terminals.
Electrical Connections (Secondary)(mm): (2) screw terminals.
Electrical Ratings, Output: 24 Vac at 40 VA.
Interested in Honeywell's 40 VA general purpose transformers? Contact Tower Equipments professionals today for pricing, more information, or with any questions you may have at: