When your home's humidity levels are out of balance, you, your family, and your pets may experience the irritating effects of dry air. This includes itchy skin, scratchy throats, chapped lips, static electricity, and unpleasant shocks. Your woodwork, hardwood floors and favorite possessions, like furniture, artwork, and musical instruments, may crack and split from dry air as well.
Honeywell's Advanced Electrode Humidifier can help you feel more comfortable across your whole home by maintaining the right humidity levels. This allows your home and everything in it to remain healthy year round.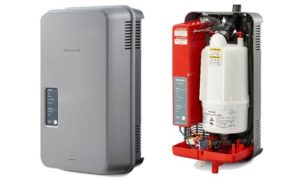 With an innovative, versatile design, and industry-leading self-diagnostics, Honeywell's Advanced Electrode Humidifier is an easy-to-install, simple-to-service steam humidifier that delivers on-demand humidification quickly and consistently. It is a great option for both renovations and new installations.
You will benefit from its optimized performance, flexible/quick install options, maintenance, and startup. Your customers will value its efficiency, easy connected operation, simple maintenance and on-demand humidification that protects people, pets, and possessions throughout the whole home.
More effective than traditional evaporative humidifiers, the Advanced Electrode Humidifier is:
Efficient 

Reaches an ideal humidity level quickly and consistently with on-demand humidification.
Can help you reduce your heating bills since proper humidity levels make homes feel warmer.
Is the market's smallest steam humidifier; installs directly into central heating and cooling systems.

Connected

Works with multiple Honeywell thermostats; offers digital control with the Total Connect Comfort app or Lyric app.
Comes with a HumidiPRO digital humidity control, which automatically adjusts to preferred humidity levels; protects against window condensation and frost.
Works with HumidiPRO's Humidity Boost for on-demand changes at the touch of a button.

Easy

 Fills automatically, taking the hassle out of handling clunky water tanks.
 Contains an easy-to-access, easy-to-replace canister for simple maintenance.
Automatically adapts to changing water conditions.
Shows stage and status with an intuitive self-diagnostic tool.
Makes no noise—so you'll only know it's working by how comfortable you feel.
Contractor Highlights
Duct mountable. The industry's only duct-mountable solution with a wall-mount option means a simplified and successful installation, plus easy servicing.
 Smallest footprint. The most compact solution on the market allows for one-person, flexible placement; great for replacement and new installation opportunities.
Easy-access wiring with push-in terminals. Quick access means rapid installation and checkout.
Pre-mineralized cylinder. Allows for a faster startup process and optimized humidifier performance.
Seamless integration. Part of the Honeywell whole-home comfort portfolio, providing multiple solutions to help your business be profitable.
5-year warranty.
Interested in Honeywell's Advanced Electrode Humidifier? Contact Tower Equipments Professionals today for pricing, information, or with any questions you may have at: