The new A421 Series Electronic Temperature Control by Johnson Controls has advanced control features for more application versatility. The easy-to-use push-button programming menu is highlighted, including the basic and advanced menus making it simple to use. 
The A421 Series Electronic Temperature Controls are single-stage controls with a single-pole, double-throw (SPDT) output relay, they have a bright backlit LCD, and a three-button touchpad interface that can be set up to restrict user adjustments. The controls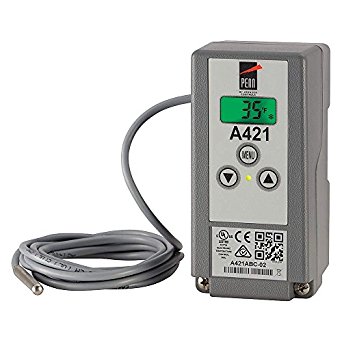 feature remote sensing capability and interchangeable sensors. They also feature an LED that indicates the output of the relays On/Off status. The A421 Series Controls have simple on and off temperature settings for heating or cooling, an adjustable anti-short cycle delay, and a temperature offset function. Integrated off-cycle defrost and interval timer models are available.
The control range is -40 to 212°F (-40 to 100°C) for standard models. Models with a control range of -40 to 248°F (-40 to 120°C) are also available in quantity orders.
The A421 Controls are available in either Type 1 (NEMA)/IP20 high-impact plastic enclosure suitable for surface or DIN rail mounting or Type 4X (NEMA)/IP66 watertight, corrosion-resistant surface mount enclosures. A421 Controls with Off-Cycle Defrost (A421ABD and A421AED models) provide off-cycle defrost control with user-configurable defrost cycle duration and frequency
Applications
The A421 Electronic Temperature Control can be used to control a wide variety of single-stage refrigeration or HVAC equipment.
Sample temperature control applications include:
Temperature monitoring and alarming
On/off control of boilers and chillers
Boiler and chiller pump control
Heating and cooling control
Floating temperature control of damper and valve actuators
Cooling tower fan control based on water temperature
Supply, makeup, and mixed air temperature control
Temperature actuated valve control
Supply and makeup air damper and fan control
Condenser fan control based on condenser temperature
Features
Easy-to-read, bright, adjustable backlit LCD screen displays the temperature, parameters, and status clearly and allows you to adjust LCD brightness for the ambient light conditions. Custom icons on the display provide visual cues on system and control status.
Basic and advanced programming menus allow you to easily set up your control application on the LCD using a simple three-button touchpad interface.
adjustable On and Off temperature setpoints enable easy to set up cooling or heating control applications on the three-button touchpad, eliminating the need to remove the cover and reposition jumpers for reverse or direct control actions.
High and low-temperature setpoint adjustment stops allow you to set up your application for your desired range of adjustment and restrict user adjustment to just the desired temperature adjustment range.
Displayed temperature offset allows you to adjust the displayed temperature to the actual sensed temperature in applications where the resistance error in long sensor cable leads can cause a deviation in the displayed temperature from the actual sensed temperature.
Adjustable anti-short cycle delay keeps the output relay Off after the Off setpoint is reached for a user-defined time delay, which helps avoid short cycling, hard starts, and nuisance overload outages on compressors and other inductive applications.
Temperature setback/offset control enables the control to shift the On and Off setpoint values by a user-defined offset when an external switch closes the binary input control circuit. Using a switching timer enables you to set up occupied/unoccupied temperature setback schedules for your applications.
High-impact, thermoplastic Type 1/IP20 or Type 4X (NEMA)/IP66 watertight, corrosion-resistant enclosures increase application options, allowing surface and snap-fit DIN rail mount, or watertight surface mount
Parameter adjustment restriction allows you to lock the control's setup parameters and restrict user adjustments to just the On and Off temperature setpoint values within your defined setpoint adjustment range.
Low- and line-voltage control models provide industry standard control voltage options for most refrigeration and HVAC control applications.
Interested in the A421 Series Electronic Temperature Controls made by Johnson Controls? Contact Tower Equipments professionals today for pricing, information, or with any questions you may have at: