The symptoms of spring season are in high effect and for many homeowners this means increased allergies and humidity control issues. These home indoor air quality issues can stand in the way of achieving a healthy climate without the right equipment.
A whole home air purifier is an ideal solution for houses with family members who are sensitive to allergens such as dust, pollen, and bacteria. Whole home air purifier units are often connected within a home's HVAC duct system, and remove impurities from air circulated by the furnace or air handler's blower during the normal heating and cooling cycle. Using an air purifier can help decrease allergy symptoms and improve lung health while reducing the spread of sickness throughout your household.
Air purifiers remove the following from your indoor air:
Pet hair & Dander

Pollen

Mold spores

Dust

Smoke

Bacteria

Viruses

Odors
Below here are three smart solutions to help you effortlessly manage indoor air quality for comfort and energy savings.
---
Aprilaire Air Purification Systems 
The air you breathe inside your home could be the most polluted air you breathe all day. In fact, the EPA has named indoor air pollution as one of the top five environmental risks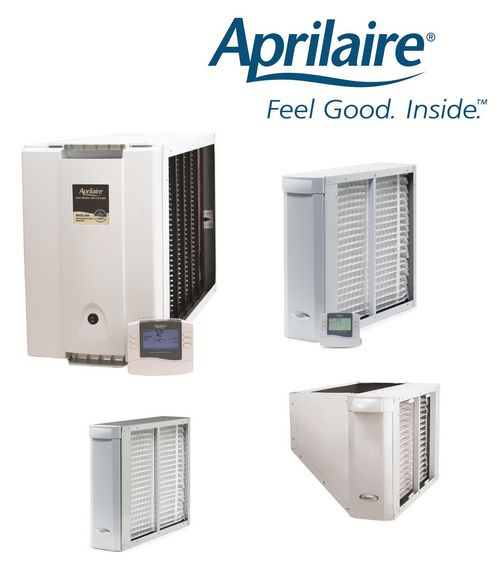 to public health. With the amount of time spent indoors, it's no wonder so many people suffer from allergies, asthma and other illnesses.
Just one cubic foot of air can have more than 30 million pollutants—that's 5 times more than the air outside. About 40,000 dust mites, which increase the chance of asthma development can live in just one ounce of dust. Aprilaire can help you fight back at the particles that are harming your home and your family.
A whole-home air purifier will help you manage it. Installed as part of your home's heating and cooling system, it puts you in complete control of air purity. When your HVAC system fan is on, it delivers cleaner, healthier air not just in one room, but throughout your entire home. A whole-home air purifier helps you manage indoor air purification. Click here for more information.
Honeywell Air Purification Systems
Did you know no matter how much clean and disinfect bacteria, mold, and germs still blow through the air in a home every time the heating and cooling system turns on?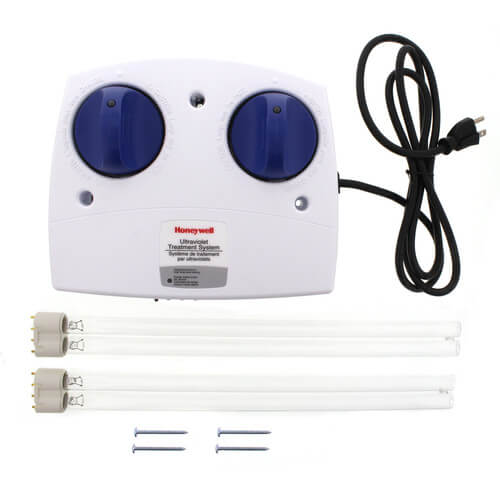 Plus, air conditioners moist cooling coil can serve as an ideal breeding ground for mold. Let mold and bacteria see the light with Honeywell's Ultraviolet treatment Systems & improve your homes indoor air quality. 
Ultraviolet treatment systems works as an additional line of defense to help protect a home from mold and bacteria. The UV lights in ultraviolet treatment systems are contained within your heating and cooling system- right where bacteria and mold try to grow. Honeywell coil irradiation models kills up to 99.9 percent of mold that could otherwise be thriving on your system's cooling coil. Airborne bacteria doesn't stand much of a chance, either, with up to 87 percent killed when passing by the system. Click here for more information.
Field Controls Healthy Home System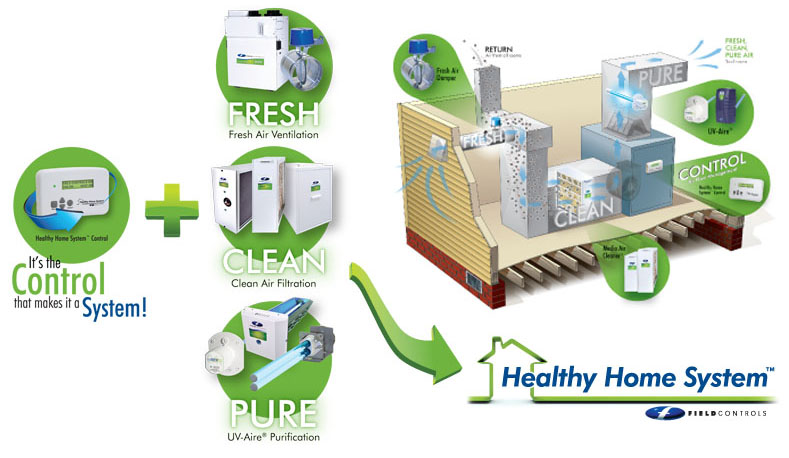 Get the ultimate whole-house indoor air quality solution with Field Controls Healthy Home System! Upgrade any heating and cooling system to a healthy home system and breathe air that is fresh, clean, and pure all year round.
The healthy home system by Field Controls is a whole-home indoor air quality solution that improves air quality by treating the entire home as a system. It  improves the efficiency and cleanliness of the air handling system itself, and by constantly monitoring and managing the air flow in the home for maximum benefit. The Healthy Home System is cost efficient as well as it is thousands of dollars less than a stand-alone and takes up less space as it is added to the existing HVAC system. 
Fresh Indoor air can be 100 times more polluted than outdoor air. The Healthy Home System automatically controls the input of fresh air into your home to help maintain a healthy balance. Click here for more information.
---
For more options or more information on air purification systems contact Tower Equipments professionals at: