Hydronic Zoning Panels
Intuitive setup makes zoning a snap
Zoning is an ideal way to help your customers maximize comfort while enjoying energy savings, but zoning for homes with a central boiler has been time consuming — until now. Honeywell Hydronic Zoning Panels feature simplified setup and reduced wiring for quick installation. You'll be able to offer your hydronic customers the many benefits of zoning easier than ever before.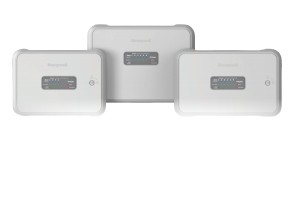 Application Flexibility
• Compatible with most thermostats, including power-stealing and electromechanical models
• C-terminal available for every thermostat connection
Easy Access
• STATUS PANEL — The LED panel is visible and functional whether the cover is on or off, saving troubleshooting time
• HINGED DOOR — The quarter-turn access and hingeoff front cover provide both safety and quick access
Backed By Honeywell
• Proven history of reliable performance and product support
• 5-year warranty
Installation Ease
• FAMILIAR SETUP*— Includes the same board layout and matching functionality as the industry standard, so no additional training is needed
• FLEXIBLE MOUNTING — The gravity centered hang hole speeds mounting, and the included DIN rail mounting system offers an additional option
• COLOR-CODED WIRING — Easy-to-understand labels coded to wire colors increase installation speed and decrease the risk of errors
• SIMPLE LAYOUT COVER — The cover reduces visual clutter and provides clear wiring labeling.
Interested in the all new Honeywell Hydronic Zoning Panels? Contact Tower Equipments Professionals for stock, training or with any questions you may have at:
1320 West Broad Street                                    92 Weston Street, Unit 31
Stratford, CT 06615                                            Hartford, CT 06120
(203) 375-4420                                                     (860) 724-3138
Fax: (203) 378-7635                                           Fax: (860) 724-0821