Dwyer works tirelessly to get it right. That's why they hold over 650 technical patents and that number grows every year. 
Most importantly, Dwyer values the expertise and skill of the people that use their products in the field every day.  With this being said, here is Tower's top picks for the new/updated Dwyer products:
Series 629C – Wet/Wet Differential Pressure Transmitter
• Versatile, high accuracy device for liquid or gas supports designs requiring more precise measurements in support of application.
• Removable terminal block reduces wiring difficulties saving installation time.
• Optional 3-way valve manifold allows the transmitter to be zeroed without removing it from service and protects the transmitter from damage due to water hammer.
• Remote sensor option reduces installation labor and material.
Advantages of the Series 
Selectable Units- Reduces the number of components on a job.
Push Button Zero- Reduces installation time and possible user error with simplified zeroing.
Optional Integral LCD- Provides localized status of operational conditions and lower installed cost.
Selectable Voltage Range- Provides flexible choice for process & HVAC controllers being used to monitor/control.
Robust Enclosure- Designed to meet NEMA 4x (IP66) weatherproof construction.
AC or DC Powered- Reduces installation costs by using the most readily available power source.
Optional Add-ons 
Remote Sensors – allows data to be monitored in hard to access locations. Reduces installation labor and material
3-Way Valve Manifold– Protects from water hammer damage. Allows for zeroing without removing from service.
Series 160FW Wireless Straight Pitot Tubes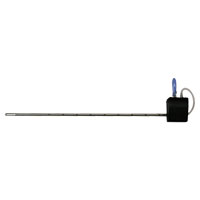 Series 160FW Wireless Pitot Tubes are designed to meet the need of the environmental field testing and is an accurate and reliable way to measure the flow of air or gas streams. Combined with the universal handheld and UHH gateway, the 160FW wireless capability allow users to read velocity directly on the handheld in the Mobile Meter® App. This universal pitot tube can also be used to take duct traverses when used with TraverseIT™ App. Data can be logged and sent via email for later reporting.
Features:
Compatible with Dwyer's Mobile Meter® and TraverseIT™ Applications
Stable 50′ (15 m) wireless range
Straight design allows for easy insertion into ducts
Permanent stamped insertion depth graduations facilitate accurate positioning
Alignment indicator helps keep tip parallel to flow
3500 Smart Differential Pressure Transmitter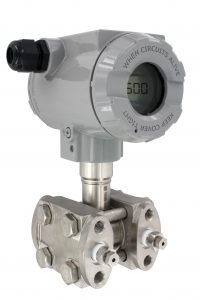 The Series 3500 Smart Differential Pressure Transmitter is a microprocessor based high performance transmitter, which has flexible pressure calibration, push button configuration, and is programmable using HART® Communication. The Series 3500 is capable of being configured for differential pressure or level applications with the zero and span buttons. A field calibrator is not required for configuration. The transmitter software compensates for thermal effects, improving performance. EEPROM stores configuration settings and stores sensor correction coefficients in the event of shutdowns or power loss. The Series 3500 can be configured to be ATEX or IECEX approved for use in hazardous (classified) locations. The rangeability allows the smart transmitter to be configured to fit any application.
Features:
High accuracy (±0.075% FS)
Rangeability (up to 25:1)
Completely Configurable using zero/span buttons (no calibrator required)
Fail-mode process function
Automatic ambient temperature compensation
TraverseIT™ Air Velocity Measuring Software Application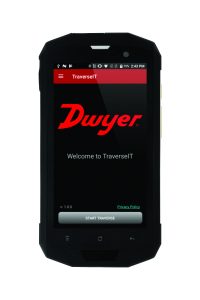 The TraverseIT™ Air Velocity Measuring Software Application displays air flow measurements from Dwyer's Series WDPM Wireless Differential Pressure Module or Series AP2 Hot Wire Thermo-Anemometer Probe and guides balancers through the duct traverse process using step-by-step instructions. The traverse process is a method for calculating the maximum airflow in a duct. Several readings are taken across a traverse plane which are converted into velocity, and averaged. The TraverseIT™ app calculates air flow using ISO 3966 and 5801 standards, yielding highly accurate flow readings with each traverse. The application comes factory installed on a Dwyer rugged handheld unit that is included with a variety of balancing instruments or it can be downloaded directly from the Google Play™ store.
Utilizes ISO Standards to calculate high accurate flow
Step-through traverse procedure provides duct visuals for quick and proper setup
Generates and shares duct traverse reports directly from the handheld device
Series A-TC Thermocouple Wire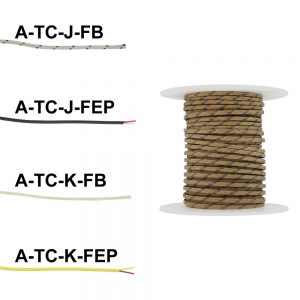 General purpose thermocouple wire is offered in the two most common types of thermocouples used, type J and type K. Both FEP insulation and Fiberglass insulation options are available in multiple pre-spooled lengths meeting any application needs. General purpose thermocouple wire can be used to extend leads on existing thermocouple temperature sensors to temperature controls such as Dwyer's 16A, 16C, 16B, or 16G controls. Male plugs and female jacks can be incorporated with thermocouples and thermocouple wire to allow for quick and easy termination.
Interested in using Dwyer products on your next job? Contact Tower Equipments professionals for pricing, availability, or with any questions at:
1320 West Broad Street                                                              92 Weston Street, Unit 31
Stratford, CT 06615                                                                      Hartford, CT 06120
(203) 375-4420                                                                               (860) 724-3138
Fax: (203) 378-7635                                                                      Fax: (860) 724-0821