THE ONE BIG IDEA THAT COMPLETELY CHANGED HONEYWELL HOME'S LATEST SMART THERMOSTAT
Cheddar highlights Resideo's design expertise
From the moment you buy a new thermostat and install it in your home to your everyday interactions with the product and mobile app, the Global Experience Design team at Resideo has been focused on each interaction to en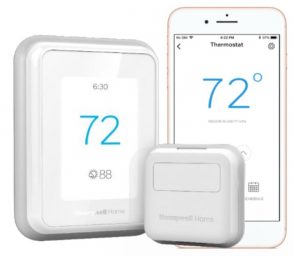 sure we're delivering a stellar customer experience every step of the way.
The team identifies ideas that can bring real value to people's everyday life by researching how consumers interact with their homes and finding out what really matters. This close attention to un-met needs, wants and desires are key to creating solutions that fit seamlessly into any home or lifestyle.
When creating the latest Honeywell Home T Series Smart Thermostats with smart room sensors, we found one simple idea to drive the design – priority. Or, in other words: a family's comfort needs will be different in different rooms at different times of the day. And families should be kept comfortable as they move throughout their home.
The idea of sensing different temperatures around your house is not new, we've offered products through our professional channel for years. But the idea of priority control is new. For example, when you're sleeping, you want a cooler bedroom, when you're awake you want another setting in the living room, when you're away you want to adjust the temperature so that you save energy.
In an interview with Cheddar.com, I explained how the new T Series Smart Thermostats offer more than just a smart thermostat … consumers get smart temperature control in the rooms they want and when they want them for improved whole home comfort.
Click the link to watch a great clip from Resideo on the Honeywell Home T Series Smart theremostat:  https://www.youtube.com/watch?v=M4en_u9N3lg
Article sourced from honeywell.com/blog
Author: Ted Booth, Vice President of Global Experience Design 
Published: February 19, 2019