Need a smart energy management controller? The Viconics VT8600 Room Controllers for Rooftop Units, Indoor Air Quality, and Heat Pump applications could be exactly what you are looking for.
The VT8600 series network controllers are designed for new construction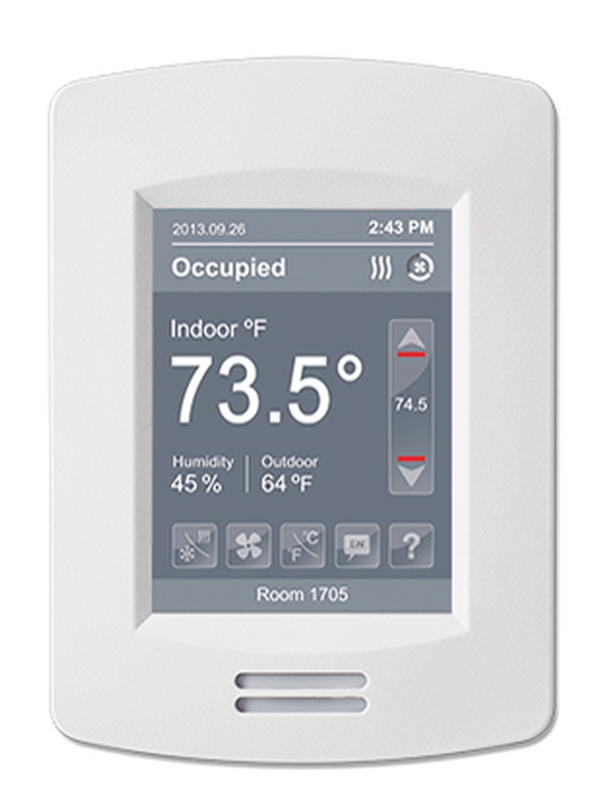 and retrofit projects.  The controllers decrease project costs by reducing installation, configuration, and commission time. Featuring all intelligence on board the system, there is no need for complex software or tools to provide the features needed to suit your application.
The VT8600 Room Controllers are both application-specific and programmable.
This enables the modification of pre-configured control sequences or the creation of entirely new control sequences for HVAC, lighting, and other applications. The VT8600 Room Controllers provide exceptional control of a staged heating and cooling equipment such as packaged rooftop units. Their configurable control sequences, economizer, and scheduler functionalities deliver all the flexibility necessary for optimal indoor air quality applications.
Features 
Suitable for both commercial and hospitality markets and systems
Customizable color digital touch screen interface with multi-language support
Fully programmable control sequences using scripting
On board configuration interface utility
Configurable sequence of operations
Configurable Economizer
Configurable Scheduler
Change of value (COV) function for BMS integration
Universal inputs and outputs including a CO2 sensor input and Fresh air station input
Optional PIR occupancy sensor
Advanced occupancy functions for commercial and lodging applications
Optional wireless motion sensors, door and window switches (with optional ZigBee Pro® card) available
Supported networking protocols

BACnet MS/TP (B) (selectable)
Modbus (B) (selectable)
ZigBee Pro wireless mesh network (P) (optional with communication module purchased separately)
Interested in the New Viconics VT8600 Rooftop Unit, Heat Pump, and Indoor Network Air Quality Controller? Contact our Professionals at Tower Equipment today for pricing, information, and any questions you may have at: