Honeywell's Exclusive RedLINK Wireless Technology Just Got Better!  
Honeywell released their new and improved RedLINK Internet Gateway to help you better meet your customer's comfort needs. The RedLINK Gateway allows for the ease of wireless installation with no added labor costs and optimizes profitability.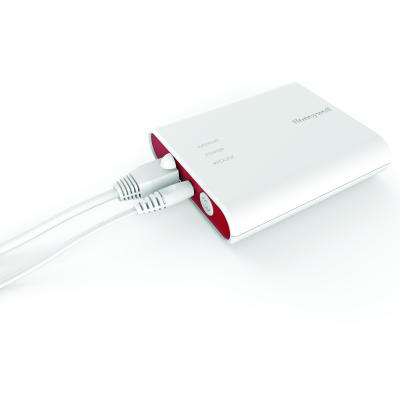 You can control Honeywell's RedLINK communications from a web browser or smart device. The RedLINK Internet Gateway connects to an internet router with a standard Ethernet cable (provided). The Gateway is then connected to the power adapter (provided) and plugged into a wall outlet. This new model is a direct replacement for THM6000R7002.
This product features:
Program scheduling*

 View and change their HVAC system settings (Heat, Cool, Fan, Dehumidifier*, Humidifier*)

View and set the temperature

 View and set indoor humidity*

View outdoor temperature and humidity

Access multiple thermostats if the system is zoned

Access multiple locations if more than one system is connected

Receive temperature and humidity alerts via e-mail

Access over 90 system alerts via the web.

Get automatic upgrades as new features are available
Improvements to RedLINK include:
Better design and user interface

3-foot Ethernet cable

Power adapter

Enables remote access, group scheduling and Contractor Portal access directly from the RedLINK device

Compatible and supports RedLINK thermostats
New Part number is: THM6000R7001
Interested in Honeywell's new and improved RedLINK Internet Gateway? Contact Tower Equipment's Professionals today for pricing, information, or with any questions at: