Introducing Veris New and improved Universal PX3 Differential Pressure/Air Velocity Transducer Series to Towers Inventory
The most versatile and capable sensor in the market has arrived! Veris is proud to release the new PX3 Differential Pressure/Air Velocity Transducer – now available for purchase at Tower Equipment Company.
Replacing Veris old differential pressure sensor (PXULX053), the new & improved PXULX05 will meet all your needs! The highly-accurate PX3 can be used to measure either pressure or velocity and is ideal for duct static, building pressure, room pressure, and air velocity measurement for AHU/RTUs and VAV boxes. With flexible mounting options, field-selectable sub-ranges, and an IP65 outdoor rated enclosure designed to fit into smaller spaces, the PX3 is a great device for any pressure or velocity application. 

The PX3 transducer can measure either air pressure or velocity with the flip of a switch.  The PX3 is available in three installation configurations: duct, panel or universal.
Duct and panel models have two pressure and velocity range options:  0-1″ WC / 0-3,000 ft/min or 0-10″ WC / 0-7,000 ft/min with seven field-selectable sub-ranges for pressure and eight for velocity.  All variants are available with and without display.  The PX3 has an IP65/NEMA 4 environmental rating and a 5-year limited warranty.
Applications: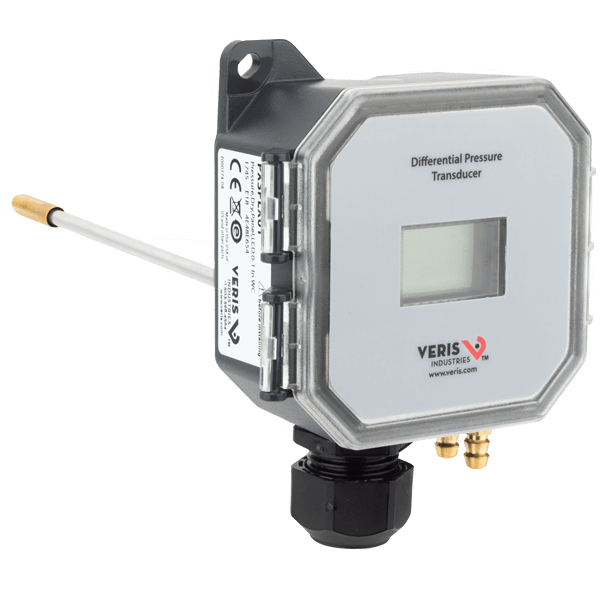 Duct static pressure (pressure mode)

Building / Room pressure (pressure mode)

Filter status (pressure mode)

Air flow measurement (velocity mode)
Exceptional accuracy and stability:
Excellent tolerance to overpressure and vibration reduces field failures

High accuracy digital sensor maintains calibration and reduces callbacks

High reliability sensor technology for long-term maintenance-free operation
Lowest total installed cost:
Switch-selectable ranges and scales reduce setup time and number of models to stock

Microprocessor-based design allows for digitally profiled sensor increasing product accuracy and reliability

Brass barb fittings prevent breakage and accommodate popular tubing sizes
Low-differential room pressure sensor with LCD display:
Ideal for clean rooms, hospitals, fume hoods, computer rooms, and other very low differential pressure applications

Monitors positive and negative pressure for application versatility

Flexibility: standard and fast response modes