Multi-functionality from a legend in control solutions
In every step of the winemaking process, conditions have to be just right. While you can't control when buds blossom or when
fruit will be ready to pick, Johnson Controls can help you better control the fermentation process. Our PENN line of temperature controls has been setting the standards in dependability and innovation for nearly 100 years. Now our new A525 fermentation tank controller handles multiple chores in the cellar or brewhouse. Without adding new things for you to learn or worry about.
Easy programming saves time
The innovative A525 tank controller is easy to set up, and easy to use. Plain language programming simplifies complex
functions, including temperature control, pump control sequence and alarms. A wide range of options allows you to customize control functions. And the A525 integrates with HVAC equipment for facility-wide environmental control and other devices that have embedded controls. So you can take advantage of predictive diagnostics, improved energy efficiency and reduced operating costs.
Monitors tank conditions round the clock
One of the most critical steps in your process is what happens in the tank. The more you know about the conditions, the more control you have over the quality. The A525 offers flexible remote monitoring and report generation so you know exactly what's going on 24/7. You can select alarming conditions that can be delivered on screen. It will automatically record alarms and temperatures throughout the fermentation process.
Control all aspects of fermentation
Here's where the magic happens. The A525 fermentation controller can play a critical role in each part of the fermentation process. It manages:
• Temperature Control – heat, cool, and auto-changeover for precise temperature control.
• Pump Over – manage the circulation of the liquid material and the fermentation cap.
• Air Supply Control – Manage tank fermentation gases You can see how easy it is to program complex functions using the plain language menus
Main menu options
• System status
• System setup
• Temperature control
• Pump control
• Override
• Alarm setup
• Files: Data log and setup
Easy integration with the facility controls
The A525 can integrate into a Building Automation System network for complete management of:
• Heating • Cooling • Ventilation • Lighting • Security
A controller that speaks your language
· Plain language programming
· Scrolling alpha-numeric display
· Assignable tank or controller name
· Indexed menu structure to simplify programming
Control pump speed
• Optional variable speed drive control
• Direct analog control of variable speed pump
• Manual pump activation with optional switch
Customize alarms to protect your product
• High Temperature Alarm
• Low Temperature Alarm
• Sensor Failure
• Pump Failure
• Communications Loss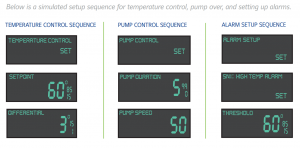 Innovative control solutions for all your business needs
The winery and brewery markets are as competitive as ever. And margins are tight. So the more control you have over system
efficiency and costs, the more control you have over business success. PENN has been the leader in commercial refrigeration for more than 100 years. Count on us for worry-free solutions to all your refrigeration and control needs.
Interested in the PENN A525 Series? Contact Tower Equipment Company for more information or with any questions you may have at:
1320 West Broad Street                           92 Weston Street, Unit 31
Stratford, CT 06615                                   Hartford, CT 06120
(203) 375-4420                                            (860) 724-3138
Fax: (203) 378-7635                                   Fax: (860) 724-0821